SNB (Sunday Nail Battle) - Tartan Day
Hello Lovelies!

Je vous retrouve aujourd'hui pour la Sunday Nail Battle. Comme hier c'était Tartan Day (célébration des liens historiques et actuels qui existent entre l'Écosse et les descendants d'immigrés écossais en Amérique du Nord et dans certains pays du Commonwealth le 6 avril. Date anniversaire de la déclaration d'Arbroath de 1320.

Merci wiki

), c'est le thème du jour.

I'm back today for the Sunday Nail Battle. As yesterday was Tartan day (a celebration of Scottish heritage on April 6, the date on which the Declaration of Arbroath was signed in 1320.

Thanks wiki

), it is our theme.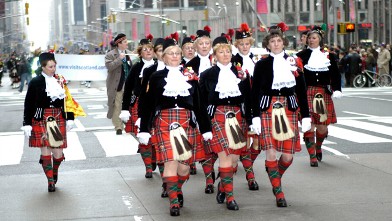 Source: google
Pour la base, j'ai posé deux couches de
Rouge Fatal
de Chanel.
For the base, I applied two coats of Rouge Fatal by Chanel.
Rouge Fatal est un sublime rouge bourgogne profond.
Rouge Fatal is a sublime deep bugundy red.
J'ai ensuite utilisé du striping tape pour créer mon tartan en accent nail.
Then, I used striping tape to create my tartan as an accent nail.
Je file voir vos battles de suite !
I'm off to your battles now!